Including Zelensky's UNGA pantomime
Zelensky watches his own speech at the UNGA.
The grain dispute between Poland and Ukraine is gathering fury. Poland and other neighbouring countries have extended the grain embargo on Ukraine despite the EU not extending the block.
After Zelensky insinuated at the UNGA that Poland was playing into Russia's hands after maintaining curbs on Ukrainian grain exports via Polish territory – the Polish government issued this statement:
"No one in the world has provided more generous help to Ukrainians than Poles. President Zelensky (Volodymyr Zelenskyy) should remember this. But the government in Warsaw is primarily concerned with taking care of Polish citizens, including farmers," Jacek Sasin, Minister of State Assets, said on X.
Kyiv and EU/NATO partners are trying limit the damage of the collapse of the Black Sea grain deal in July. Land routes are essential to reach world markets from Ukraine.
Poland, Hungary and Slovakia have refused to lift restrictions on the Ukrainian foodstuff trade within their borders in an effort to protect their domestic market and farmers who have suffered from a glut of cheap, poor quality Ukainian produce.
Zelenskyy told the UN General Assembly on Tuesday that it was "alarming to see how some in Europe … are helping set the stage to a Moscow actor."
"I hope these words are not addressed to Poland," Polish government spokesman Piotr Muller told radio broadcaster RMF FM. "The name of our country was not mentioned there, so I would not like to perceive them that way."

"We are helping Ukraine militarily to defend itself — but also us — against Russia. However, in economic and agricultural matters, we must defend Polish interests," Muller added.
A previously planned meeting between Zelenskyy and Polish President Andrzej Duda did not take place at the UN on Tuesday.
Poland is a leading provider of arms and diplomatic support to Ukraine in its war with Russia.
The country's ruling party, Law and Justice (PiS), is facing parliamentary elections on Oct. 15 and has vowed to protect farmers — one of the party's key voter groups — from cheaper inflows of Ukrainian grain.
Ukraine Leaks on Telegram have recently detailed the contaminants found in Ukrainian grain and with the supply of Depleted Uranium to the Kyiv regime and ultra-nationalist armed forces, the risk of contamination can only increase.
While some very exaggerated reports were circulating about the foreign investment in Ukrainian agricultural land – there is a very real threat from the GMO giants who are eyeing up the purchase of prime land in Ukraine for the future.
This article from GlobalIlManifesto details the moves by the EU to remove the moratorium on the foreign purchase of Ukrainian land:
Despite the moratorium on land sales to foreigners, by 2016, ten multinational agricultural corporations had already come to control 2.8 million hectares of land. Today, some estimates speak of 3.4 million hectares in the hands of foreign companies and Ukrainian companies with foreign funds as shareholders. Other estimates are as high as 6 million hectares. The moratorium on sales, which the US State Department, IMF and World Bank had repeatedly called to be removed, was finally repealed by the Zelensky government in 2020, ahead of a final referendum on the issue scheduled for 2024.
Among this long list, European companies particularly stand out, and the role of the EU is increasing, especially after the signing of the economic association agreement between Ukraine and the European Union that came into force in 2017. That agreement, denounced at the time by Russia as a backdoor to facilitating the entry of Western multinationals, includes the promotion of "modern agricultural production … including the use of biotechnologies," an apparent opening towards GMO crops on Ukrainian (non-EU) fields.

Furthermore, agribusiness development in Ukraine and Eastern Europe is part of the European Commission's strategic plan to boost "protein crops" and reconvert production in those regions to mainly soybean, for which meeting current EU needs is still largely dependent on imports from Argentina and Brazil.
My short report for UK Column News is below:
I also covered the pantomime created by the Ukrainian propaganda machine in which Zelensky can be seen watching his own speech (watch report for details).
A recent article for CNN by Keir Giles, contributor to the Russia and Eurasia Programme of Chatham House provides some important insight into the role of the UK in the proxy war against Russia: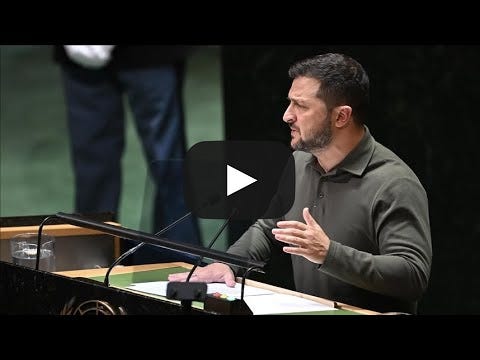 ***