The decision of the UK government yesterday evening (December 2) to extend its war on terror into Syria with no coordinated strategy in place to defeat ISIS, will almost certainly be as catastrophic as Tony Blair's decision in 2003 to commit British troops to Iraq. The notion that MPs could have genuinely been persuaded by Cameron's line of reasoning for another illegal war is as inconceivable as MPs during Blair's reign being unaware of either Scott Ritter's findings stating that by 1998 Saddam had effectively been disarmed, or the subsequent public pronouncements of Colin Powell and Condaleeza Rice that were made on the back of them and which preceded the infamous 45 minute claim.
The Prime Minister's justification for sending more of our troops into harms way – which, significantly, was rejected by the Foreign Affairs Committee – was predicated on the dubious and frankly laughable claim of the existence of 70,000 "moderate rebels". On Sunday's (November 29) edition of the BBCs Marr programme, Defence Secretary, Michael Fallon, when pressed by presenter Andrew Marr to clarify who these rebels were, replied that were comprised solely of anti-Assad, Free Syrian Army forces.
However, early on December 1, Lt Gen Gordon Messenger, the deputy chief of the defence staff, appeared to have contradicted Fallon by refusing to confirm whether any of the alleged 70,000 fighters were members of more extremist groups such as the Islamic Front and Ahrar al-Sham. The fact that no clarification by Cameron was given to MPs regarding the source for the 70,000 figure or its composition, is not a sufficient enough basis for MPs to be able to make an informed decision about such an important life and death issue.
A major argument of those who defend the decision to extend the war, is premised on the claim that the attacks against ISIS in Iraq have not resulted in a single civilian casualty. Numerous conservative MPs have been afforded air time in the media to pontificate such an absurd claim without, to my knowledge, any serious challenge from journalists contradicting it. In under ten minutes of researching credible civilian casualty figures in Iraq resulting from coalition bombs, I learned that eight named children and two women had been killed in just one strike on Fallujah in a single day on November 26.
The public are being denied critical information by the mainstream media in order for them to be able to counter government propaganda and thus to challenge their MPs about their decisions for the case for war. But the same cannot be said of these MPs who themselves ought to be seeking to challenge such fundamental misconceptions and misinformation. Feigned ignorance is not a defence against complicit hands metaphorically covered in the blood of innocent victims.
The use of the government's "precision" Brimstone missiles that will kill many more innocent men, women and children than the tragedy of Paris that gave rise to their use in Iraq and now Syria, will be the direct consequence of the deceptions of politicians' and the shortcomings of journalists who failed to challenge their rationale for war.
If the government were serious about obliterating the existential threat they claim ISIS represents, then they would not be aligning themselves with allegedly 70,000 unidentified "moderates" who, as Patrick Cockburn contends "are weak or barely exist". On the contrary, they would be aligning themselves with the forces on the ground that are resisting ISIS most effectively. These groups, as Peter Hitchens acknowledges, are the Syrian Kurds, the Syrian National Army, Hezzbollah and Iran – all of whom are being backed by Russian air power. However, this sensible coordinated strategy is being usurped by Cameron's non-existent one, upon which, in their infinite wisdom, the majority of MPs voted.
The second explanation as to why the government's decision to extend the bombing into Syria is not motivated by the need to destroy ISIS, is the duplicitous approach they have adopted in respect to their dictatorial regional allies in the Gulf peninsula who are among their biggest recipients of weapon deals. There is evidence that powerful actors within Saudi Arabia and Qatar, who are among the most brutal regimes on earth, have been facilitating funds and arms to ISIS and their affiliates that result from these deals.
Consequently, figures suggest ISIS alone has at least 80,000 fighters up from last year's estimates of around 20,000 to 31,500. No matter how this is spun, the situation can only be interpreted as being an example of state sponsored terrorism that has had serious blow-back consequences. A former US military chief goes as far as to admit that the Iraq invasion had spawned ISIS.
Nafeez Ahmed notes that in his testimony before the Senate Armed Services Committee in September 2014, General Martin Dempsey, then chairman of the US Joint Chiefs of Staff, was asked by Senator Lindsay Graham whether he knew of "any major Arab ally that embraces ISIL"? Dempsey replied: "I know major Arab allies who fund them." In other words, the most senior US military official at the time had confirmed that ISIS was being funded by the very same "major Arab allies" that had just joined the US-led anti-ISIS coalition.
If the major imperial powers were serious about undermining the terrorists, they would start by ensuring that their regional allies stop providing monetary, military and logistical support to them and their affiliates. Often overlooked is the fact that NATO member Turkey has also played a pivotal role in funneling arms to the various extremist factions as well as actively facilitating ISIS oil sales through the country. The reason Turkey shot down the Russian jet was to deter the Russian bombing in the Nusra Front-controlled border region. All this, as Nafeez Ahmed points out:
"….. begs the question as to why Hollande and other Western leaders expressing their determination to "destroy" ISIS using all means necessary, would prefer to avoid the most significant factor of all: the material infrastructure of ISIS' emergence in the context of ongoing Gulf and Turkish state support for Islamist militancy in the region. There are many explanations, but one perhaps stands out: the West's abject dependence on terror-toting Muslim regimes, largely to maintain access to Middle East, Mediterranean and Central Asian oil and gas resources."
Naturally, both Russia and its allies on the one hand, and the U.S and its allies on the other, have geopolitical interests' diametrically opposed to one another. But the point is, Russia's principle motivation leads them to destroying ISIS with the view to maintaining Assad's grip on power, whereas the West's motivation lies elsewhere.
The West have spent well over $5 trillion on waging their "war on terror". Over that period, US State Department data shows that terror attacks have skyrocketed by 6,500 percent, while the number of casualties from terror attacks has increased by 4,500 percent.
As Nafeez Ahmed pointed out, journalist Paul Gottinger, who analysed the data, noted that spikes in these figures coincided with military intervention: "…. from 2007 to 2011 almost half of all the world's terror took place in Iraq or Afghanistan – two countries being occupied by the US at the time." And in 2014, he found, "74 percent of all terror-related casualties occurred in Iraq, Nigeria, Afghanistan, Pakistan, or Syria. Of these five, only Nigeria did not experience either US air strikes or a military occupation in that year."
This would appear to be consistent with Ken Livingston's contention, for which he was much maligned, that our military intervention in Iraq in 2003 had a direct bearing on the attacks in London on July 7, 2005. Moreover, it would also tend to support his view that the forthcoming air strikes in Syria will increase the threat of terrorist attacks here. Former British ambassador, Oliver Miles recently commented:
"The [current] government seems to be following the example of Tony Blair, who ignored consistent advice from the Foreign Office, MI5 and MI6 that our Middle East policy – and in particular our Middle East wars – had been a principal driver in the recruitment of Muslims in Britain for terrorism here."
Under such circumstances, it might well be reasonably argued, as former UK ambassador to Syria, Peter Ford has, that Cameron's warmongering deceit is criminally negligent. It's absurd to argue that the way to thwart transnational terrorism committed by organised groups of individuals on European soil is to bomb innocent people in nation states' in the middle east.
Warmongering Blairites like Hilary Benn are incredulous that anybody should oppose the bombing of the 600,000 population of Raqqa, in the hope, as Craig Murray put it, "of hitting 8,000 ISIS personnel carefully dispersed among them."Conservative MP John Baron's reasoned arguments and appeal to colleagues, below, ended up being futile but at least he and the minority of other MPs who opposed more war for the benefit of the arms industry who lobby Cameron, appear to have a conscience: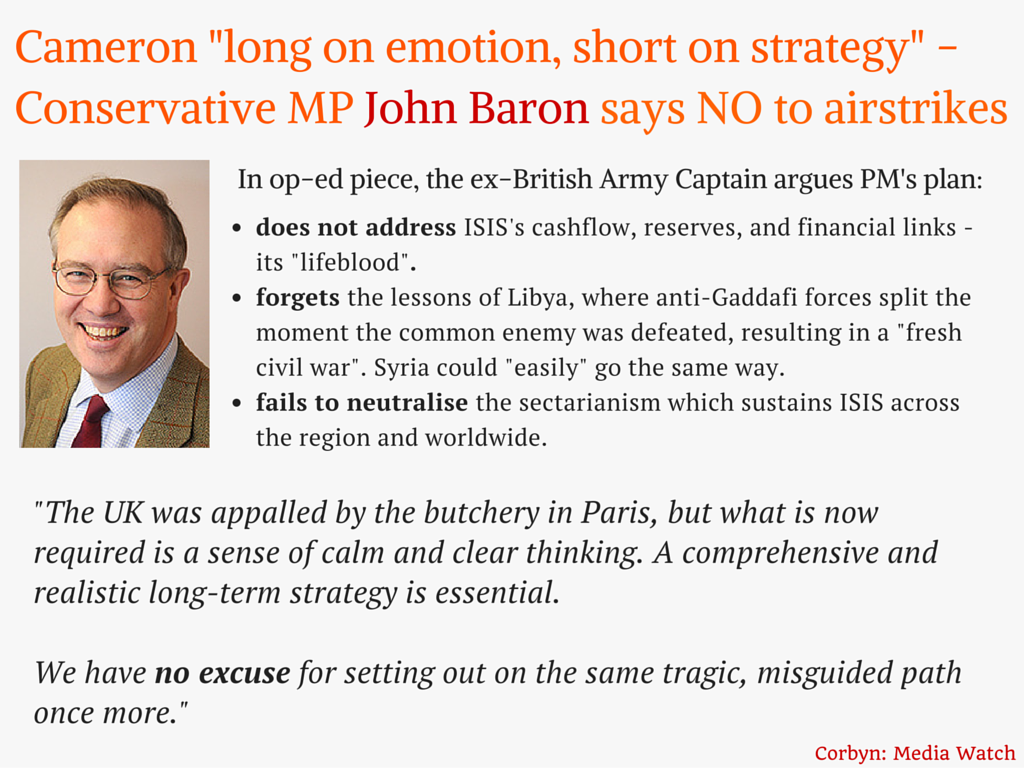 Philip Hammond's commendation to his opposite number, Hilary Benn, that his pro-war speech was "one of the greatest in parliamentary history", is illustrative of how democracy is little more than lip service to power underpinned by a self-serving Red-Tory opposition. Craig Murray hit the nail on the head when he said: "the odious Blairites are the most self-centred, selfish and indeed sociopathic group ever to have a serious presence in the UK parliament."
The truth is, the general public are, as was the case with Iraq, being systematically lied to. After numerous hours of debate in parliament, it is clear that Cameron's case for bombing that will now begin within hours of this article being published, had not been made. The decision by the British parliament to ostensibly bomb ISIS by an overwhelming parliamentary majority of 174, is not supported by the majority of the British people and is based on a charade whosereal purpose is illegal regime change.
In a recent article, journalist John Pilger quoted the former French Foreign Minister Roland Dumas who last year revealed that "two years before the Arab spring", he was told in London that a war on Syria was planned. "I am going to tell you something," he said in an interview with the French TV channel LPC, "I was in England two years before the violence in Syria on other business. I met top British officials, who confessed to me that they were preparing something in Syria… Britain was organising an invasion of rebels into Syria. They even asked me, although I was no longer Minister for Foreign Affairs, if I would like to participate… This operation goes way back. It was prepared, preconceived and planned"
---
Originally published: (cultureandpolitics.org)